■About LEGACY RS type R & type RA
There may be many people who do not know first generation Legacy RS "typeR" & "typeRA"
●RS-R
The debut of first Legacy was the end of January, 1989 (February 1 release). The turbo car was only sedan RS of 5MT at first.
In October, the same year, RS-R is added in accordance with a debut of GT which is a turbo car of a wagon (and 4AT version of sedan RS).
It is written with "a basic grade model of RS which is suitable as the material of a competition car for motor sports" and a new car commentary book.


RS-R、Atype
●RS-RA
 In November, '89 (December 1 release), pure competition car base for motor sports, RS-RA of a STi tune appear.Therefore the position of RS-R became considerably vague debut two months later.
It is written with a new car commentary book with "the order production RA memory model that executed engine fine-tuning same as the challenge car that 100000km speed records RS-R in a base."
RA seems to mean, 100000km speed record challenge "RECORD ATTEMPT" instead of RA of Rally.
(There is an opinion that RA means "Race groupA")
RS-RA put a fine tune to a rally and a dirt trial competition to be based on RS-R more.
As for the engine, forging piston and high resist pressure connecting rod metal are built in, and, as for the intake port and exhaust port, it is revised gap and polished up.
A crankshaft and the flywheel which got of balance are mounted the car with.If it is a beginner's class level, suspension is strengthened to the rank who can participate as it is.Variable ratio power steering is important, too.As for this, the steering gear ratio becomes quick.
Without close ratio transmission, it was announced as 100-limited model at first.Actually, seem to have continued job-order production of 20 monthly productions.
Long-awaited close ratio transmission was carried than a B type from May, '90, and increased with a catalogue model.
Engine specifications do not change from a latter period model C type, but ECU becomes 16bit, and a torque up in middle low rev .(be said by an emission control that became mild) and continued to exist to the last D type, and handed over a duty of RA of legacy to impreza WRX-RA with full model change-over, and the grade of RA disappeared from legacy.


↑100 limitation,A-type


↑close ratio transmission, B-type


↑After minor change model C-type



↑Last model D-type
Engine
RS-R
 The engine & Transmissions are the same as RS.
RS-RA
based on RS-R and handcrafted RA tuning same as 100000km speed record car(RA:RECORD ATEMPT)
crank shaft, flywheel and clutch cover hand finish balance
induction system(cylinder head、intake manifold) hand finish repair gaps and polishing
A gold Alumite treatment surface cam cover
A intake mani-fold decoration cover abolition
An inter air conditioner case special color
A forging piston
forging kelmet high resist pressure connecting rod metal
A double radiator electric fan
close ratio transmission from B type
engine performance curve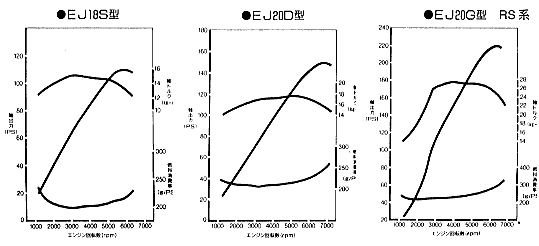 → Traveling performance curve of RS



GT
RS

Maximum power PS/rpm
Maximum torque kg・m/rpm

200/6000
26.5/3600

220/6400
27.5/4000

Turbine rotor diameters(in/out)
compressor Impellers diameters(out/in)
Maximum boost pressure
Intercept point
number of blade
52.5/43.0
56.0/41.2
450mmHg
2400rpm
9
52.5/46.5
56.0/45.0
←
2800rpm
10
■CHASSIS
●RS-R
Hardened coil spring,damper and bush(equal with STi product)
(except rear differential mount, trailing arm rear side, a stabilizer)
Adoption of three spoke steering MOMO "COBRA"
Adoption of an advan "GROVA" high grip tire
The abolition of steering assist power change over switch
●RS-RA
 Difference with RS-R
A variable quick power steering
 gear ratio  In going straight:15
 (over all)  In full steering :13
Hardened coil spring、 damper
The level that can just participate in an intermediate class rally
Hardened bush(equal with STi product)
(except rear differential mount, trailing arm rear side, a rear stabilizer)
Suspension




GT
SEDAN

GT
WAGON

RS

RS-R

RS-RA

Spring rate
(kg/mm)

F
R

?
?

2.5-2.8 2.3

2.51
1.89

2.63
2.17

3.2
2.85

Damper damping force
(pull/push 0.3m/sec)

F
R

126/31
82/25

126/31 82/25

146/97 112/74

190/140 130/85

Stabilizer
(external diameter-mm)

F
R

17?
19?

18
18

17
19
■Body color
Apride model→
A
B
C
D
RS-R
Ceramic white#57
Dark blue#56
Ceramic white#57
Indigo blue-M#13
Black mica#52




RS-RA
Ceramic white#57
Ceramic white#57
Feather white#30
Feather white#30
Black mica#52
This time,English translation to this place...

■ボデー
●RS-R
 RSとの相違点
 装備の簡素化、軽量化のため、以下の部品を廃止または変更
廃止部品
パワーウィンドウ、集中ドアロック、パワーアンテナ、リアワイパ、リアスポイラ(オプション)、アンダスポイラ、マフラカッタ、タイヤチェーン、イグニッションキー照明、リモコンミラー
変更部品
スモークガラス→ブルー化
カラードミラー→黒色化
空調スイッチ(プッシュ式)→レバー式化
フロアマット(最上級カットパイル)→ニードルカーペット化
ルーフトリム(トリコット)→塩ビ化
サンバイザ(モールド)→塩ビ化
●RS-RA
 RS-Rとの相違点
廃止部品
ラジオ、スピーカ、トランクマット、アンダーコート
Handcrafted Tuning by STIマーク(フロントドア下部)
ヘッドランプ強化
バルブを60/55W→100/80Wに変更
アンダーガード標準装着!

●Bタイプからの変更
集中ドアロック、パワーウィンドゥ用ハーネス装備(オプションで装着可能になった)
シート生地、クッション変更
(見た目はあまり変わらないがランバーサポート皆無の腰痛シートから改良されらしい)
フロントグリル銀塗装からメッキ化(RS)
リアワイパー、集中ドアロック装備、フロントグリルボディ色化(RS-R)
クロスミッション搭載、フロントグリルボディ色化(ホワイト枠)(RS-RA)
●Cタイプからの変更
 RS-R廃止
外装フェイスリフト(全車)
後席3点式ELRシートベルト(2名分)(RS系)
シートデザイン変更(全車?)
インタークーラーブラック塗装化(ターボ全車)
ECU(コンピューター)16ビット化(ターボ全車)
パワステクーリングパイプ、パワステポンプ温度?センサー追加(ターボ全車)
クラッチペダルASSY、シフトフォーク変更(異常に重い踏力改良、ターボMT全車)
●Dタイプからの変更